Ordering a new vehicle is one way to ensure you get exactly what you want...but what if you could make your order something to truly remember? Like a free trip to Europe, custom options, and a purchase price much lower than the normal MSRP? All of that is standard with the Volvo Overseas Delivery Program.
The first step is to select any Volvo model of your choice. Through OSD (Overseas Delivery Program) your purchase price will be below MSRP, sometimes at a discount not matched by buying off the lot. This is a no-haggle price, making it convenient and a great value. You can choose the normal packages available, and even select interior and exterior colors only available in the European Market (making your Volvo truly one-of-a-kind!). 
When your Volvo is built, Volvo will fly you and a guest to Gothenburg, Sweden (or one of 14 other available European points of interest) for a complimentary one nights stay at the Clarion Hotel Post in downtown Gothenburg. From there you will visit the Factory Delivery Center, where you will get a tour of the Volvo factory and see your new Volvo for the first time. You will also be able to drive your new Volvo, as Volvo pays for the first 14 days of European Insurance and Registration.
When your trip comes to an end, simply return your Volvo to the Delivery Center and fly back to the US (round trip airfare is included at no-extra charge!). Your new Volvo will be shipped to Lehman Volvo Cars, where you will take final delivery...completing the new car delivery experience of a lifetime. Sound to good to be true? It is 100% a reality, check out some of our customer testimony  or contact any of our Overseas Delivery Consultants at 717-610-0017. Our staff is well versed in the program and can answer any question you have. In fact, Lehman Volvo Cars sells more Overseas Delivery Volvos than any other Volvo dealership in Pennsylvania and is among the top 20 in the entire country. Our experience will help you discover why Volvo Overseas Delivery keeps our customers coming back time and again?.
Ordering Your New Volvo.
1. Choose your Volvo model, select the packages and choose the color.
2. Visit Lehman Volvo Cars to put your $3,000 deposit (deducted from the price of the vehicle).
3. When your car is done being built you will pay the balance. Purchasing your Volvo through Overseas Delivery can save you up to 9% off the MSRP!
4. Arrange a travel date to "pick up" your new Volvo in Europe
5. Volvo will treat you like royalty in Sweden...see the factory, visit the Volvo museum and drive your new Volvo in Europe!
6. Once done your trip Volvo will fly you home and ship your vehicle directly to Lehman Volvo Cars for you to take home.
---
The Clarion Hotel Post
An upscale hotel adjacent to the Radisson Blu and to the Central Train Station in the Central Square.
During your stay a the Clarion Hotel Post, you and a guest will receive:
-1 night complimentary room which includes breakfast
-WiFi
-3-Course Dinner at the in-house Norda Grill
-Valet Parking for your new Volvo
-Discounts to the SPA and Beauty Salon (on premises)
-A lovely gift upon arrival in hotel room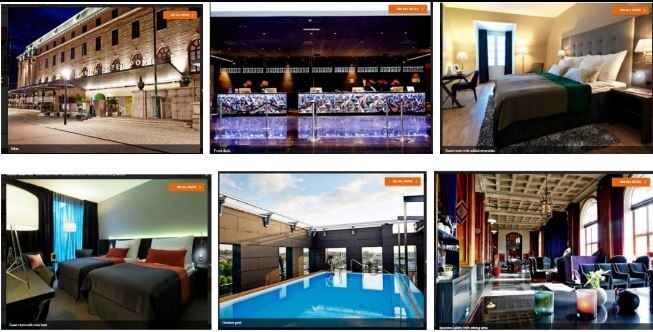 Many amenities are available while staying in Sweden. A free breakfast is open to everyone! Amenities include: outdoor and indoor pools, poolside bar, sauna, and on-site health club/spa! Free high-speed wireless Internet access is offered at the hotel as well as a fully-equipped fitness center.
*for 2019 Volvo OSD orders.